Dining on Cherry St
---
Welcome to Burlington's downtown Cherry Street, providing Hotel Vermont guests with three of Burlington's best dining options, Juniper at Hotel Vermont, Bleu Northeast Seafood and Hen of the Wood, all within steps of your room. For locals, the Cherry Street dining scene provides locally sourced cuisine, covered and two hour free parking, and a vibrant ambiance for drinks, dinner and dessert.
Bleu
---
Bleu Northeast Seafood features an upscale, polished, and warm dining experience highlighting regional North Atlantic cuisine.
Expand.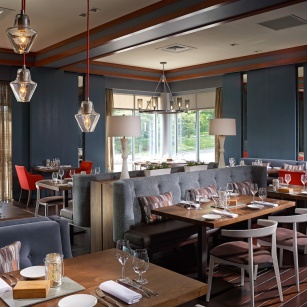 Bleu
---
Located next door in the Courtyard Burlington Harbor Hotel, at Bleu Northeast Seafood we aim to provide a warm, friendly and refined dining experience in a comfortable and modern setting. We celebrate the connection of Burlington and Lake Champlain to the sea by providing the finest quality regional seafood. While giving a nod to the French heritage of the lake's namesake we draw influence from the St. Lawrence as region well as the New England coast and the Canadian Maritimes. We work with small purveyors and fishermen to ensure the fish are caught or raised with the most sustainable practices possible. In true Vermont style we also work closely with area farmers and food producers to get the highest quality meat, produce, cheese, and baked goods.
Breakfast is served from 6 am - 10 am on weekdays and 7 am - 11 on weekends. Weekend breakfast includes a brunch buffet.
Dinner is served from 5pm - 10 pm daily with the bar open 4 pm - 11 pm.
Visit bleuvt.com for more information and for reservations.
<< Back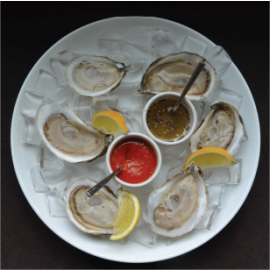 Hen of the Wood
---
At Hen of the Wood the food is simple, uncomplicated and down to earth. Hen of the Wood creates a daily changing menu based on the wealth of premium local ingredients.
Expand.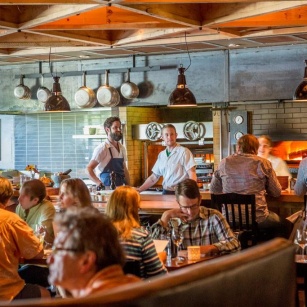 Hen of the Wood
---
Hotel Vermont is proud to welcome our friends and Vermont's favorite restaurant, Hen of the Wood, to their new Burlington location. Serving seasonal American food celebrating the farms of Vermont and the northeast. They support local growers that practice environmentally sound agriculture and believe in showcasing the most vibrant foods of the season as well as wild edibles such as Hen of the Woods mushrooms.
Open now for dinner daily from 5pm - 10pm with the bar open 4pm - 1am.
For reservations: make an online reservation here or call 802-540-0534.
<< Back
Juniper
---
Juniper is Hotel Vermont's local ingredient driven cocktail bar & restaurant. Juniper's menu is a celebration of individual and community effort.
Expand.
Juniper
---
Reservations here.
For breakfast or dinner, Juniper is the place for locally sourced cuisine. Our daily brunch, served from 7 am - 2 pm daily, highlights the best of Vermont.
Brunch service is available daily from 7 am - 2 pm.
Known for its strong, unique flavor that's been used in spirits and foods for centuries, the juniper berry is the perfect inspiration for Juniper Bar (as well as Juniper Island which can be seen from our patio), our ingredient driven cocktail bar, specializing in mixology and Vermont distilled spirits and brews.
Our evening menu is a celebration of individual and community effort, of small local producers growing and raising food, brewing beer, distilling spirits, and making wine. Farms, breweries, bakeries, distilleries, and gardens are not only scattered across our rural state, they're also right here within Burlington's city limits.
After 3 pm, discover Juniper Bar's Vermont farm to plate inspired small plates, check out the local live music scene and the custom cocktails made with local spirits. Juniper Bar features both indoor and outdoor seating overlooking lush gardens and Lake Champlain's Burlington Harbor.
Dinner available 5pm till 10pm.
Late night menu available from 10pm to 12am Friday & Saturday.
Jazz on Wednesdays.
Music on Wednesday, Friday, and Saturday nights.
Breakfast and lunch in our daily Brunch menu.
Please note all menus are updated seasonally but are subject to change based on in-house offerings.
For reservations: make an online reservation here or call 802-651-5027.
<< Back